How to Build an Emergency Fund for Your Household Finances
Discover how to save money in case of emergencies, so you don't need to go into debt or max out your credit cards every time something unexpected happens.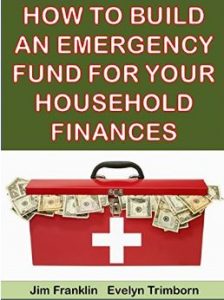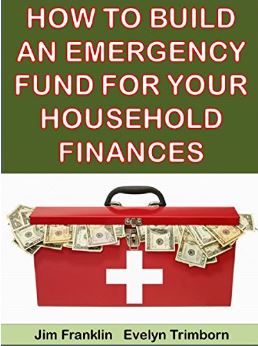 *** Learn how to plan ahead for future financial emergencies, so you can transform a crisis situation into a manageable challenge! ***
An emergency fund is an essential tool for anyone trying to stay on top of their household finances. A financial emergency can be devastating to a family's ability to meet its obligations every month, such as rent or mortgage, utilities and food.
Without a financial cushion, an event such as the loss of a job, car accident or personal injury can be financially catastrophic. In fact, without a financial emergency fund safety net in place, even the happiest events in your life, such as a wedding or new baby, can become a financial crisis.  They can even strain your available funds to the limit and put people on the verge of bankruptcy.
Creating a financial emergency fund is essential to your overall financial well-being, particularly if you have a family to support.
A financial emergency fund will also help your mental and physical health and well-being. Financial stress is a leading cause of many serious health concerns and also one of the primary contributors to strained relationships.
This guide is dedicated to helping you navigate the sometimes murky waters of financial planning to help you and your family achieve greater financial freedom.
Learn what an financial emergency fund is, how to plan for emergencies, and how to save for them.
Also discover how your own personal attitudes to money might be the main thing preventing you from creating the financial life of your dreams.
In this guide you will also learn:
+ Strategies for successful saving
+ How to pay down debt in a structured way to save even more money
+ The best places to save your money
+ How to find the money to meet all your financial goals, no matter how large or small.
If you are living from paycheck to paycheck, this invaluable guide offers you:
+ Ways to stretch your money further
+ How to make even more money to help you start saving in an emergency fund.
If you are desperate to get out of debt, achieve financial freedom, and start saving for your family's future goals, such as college and retirement, begin today with the help of this guide.
Word Count=11,300

BUY NOW or READ MORE with Kindle Unlimited: How to Build an Emergency Fund For Your Household Finances (More for Less Guides)

=====
TABLE OF CONTENTS
Introduction
Why a Financial Emergency Fund is Key For Your Household Finances
Financial Emergency Fund Challenges and Solutions:
Dealing with Existing Debt
Dealing with Bad Spending Habits
Dealing with Bad Savings Habits
How Much is Enough When it Comes to an Emergency Fund?
Coping with the Loss of a Job and Other Major Financial Losses
Ways of Making Extra Money
Planning Your Financial Future
Beyond Your Emergency Savings – How to Be Prepared
Can Less Be More? Avoiding Consumerism
Where to Save Your Money
What to Not Use to Pay for Financial Emergencies
Conclusion
Resources
Appendix: Sample Household Budget Worksheet
=====
ABOUT THE AUTHORS
Evelyn Trimborn is a freelance journalist and the author of more than 80 small business and marketing titles. She loves to teach people how to live better for less.
Jim Franklin is a consultant and the author of more than 10 guides on personal finances.

BUY NOW or READ MORE with Kindle Unlimited: How to Build an Emergency Fund For Your Household Finances (More for Less Guides)
Summary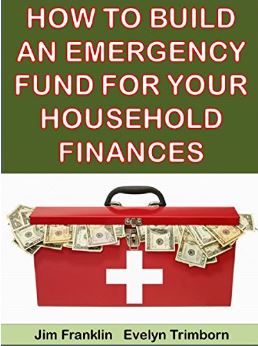 Author Rating





Product Name
How to Build an Emergency Fund for Your Household Finances
Price
Product Availability