How to Create Powerful Powerpoint 2010 Presentations Quickly and Easily: A Quick-start Guide to Using Powerpoint
Discover how to make your first PowerPoint deck from scratch with the help of this illustrated step by step guide.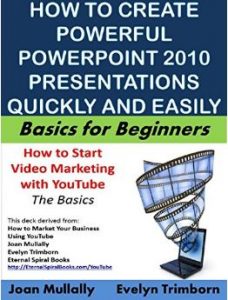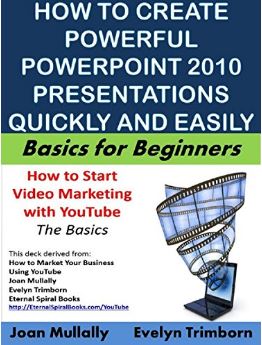 How to Create Powerful Powerpoint 2010 Presentations Quickly and Easily: A Quick-start Guide to Using Powerpoint
NOW AVAILABLE IN PAPERBACK TOO!
PowerPoint is now an essential marketing tool for businesses regardless of their size and budget. If you are being held back in your career or marketing efforts because you think you can never create a great PowerPoint presentation, this guide is designed with you in mind, to help you create Powerpoint decks quickly and easily. In this illustrated guide you will learn step by step how to create and deliver impressive, high-quality presentations to your target audience.
In this guide, you will discover how to:
create slides;
add images;
use animation to get your points across:
engage the attention of your audience through the choices that you make on each slide.
Learn how to use your presentations to expand your brand and increase your number of prospective customers and clients. Learn the best ways to structure your presentation to command attention no matter the length of your speaking engagement or meeting. Find out how to use your decks, to make videos, and how to use those videos to market your business using powerful visuals even if you are camera shy.
Create PowerPoint decks that can be used in a variety of ways to both market your business and bring in extra income. Get top tips on how to create powerful professional PowerPoint presentations that you can deliver in person, online, and through social networking websites.
There are many PowerPoint how-to guides out there, but this one is designed with the online marketers and small business owners in mind, giving you step by step information complete with screenshots to show you how to use PowerPoint to create decks quickly and easily. If you can use Microsoft Word, you can use PowerPoint to create great presentations with the help of this guide.
If you have been eager to add presentations and video to your website, blog and other marketing activities, this guide can show you how to get started today> Learn how to use PowerPoint as both a promotional tool and a whole new path to profitability.
Buy Now or Read more with Kindle Unlimited

BUY THE PAPERBACK
++++
Word Count=11,837
=====
TABLE OF CONTENTS
WHAT'S IN THIS GUIDE
INTRODUCTION
CHAPTER 1: HOW TO CREATE POWERPOINT SLIDES
CHAPTER 2: HOW TO INSERT MEDIA INTO PRESENTATION SLIDES
CHAPTER 3: ADD ANIMATION TO YOUR POWERPOINT PRESENTATIONS
CHAPTER 4: POWERPOINT TIMINGS, NARRATION AND PUBLISHING
CHAPTER 5: TOP TIPS FOR GREAT POWERPOINT PRESENTATIONS
CHAPTER 6: TOP MARKETING USES FOR POWERPOINT PRESENTATIONS
CONCLUSION
FURTHER READING
APPENDIX 1: CHECKLIST TO CREATE A POWERPOINT PRESENTATION
APPENDIX 2: HOW TO ADD A SLIDE SHOW TO SLIDESHARE
=====
ABOUT THE AUTHORS
Joan Mullally and Evelyn Trimborn have been marketing online for nearly 20 years and are the authors of more than 100 business and marketing titles designed to help new business owners gain the skills they need to succeed. They have both worked as PowerPoint specialists.
Buy Now or Read more with Kindle Unlimited

BUY THE PAPERBACK
Summary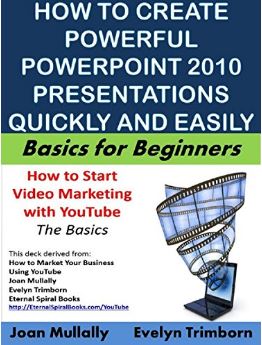 Author Rating





Product Name
How to Create Powerful Powerpoint Presentations Quickly and Easily: Basics for Beginners
Price
Product Availability