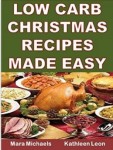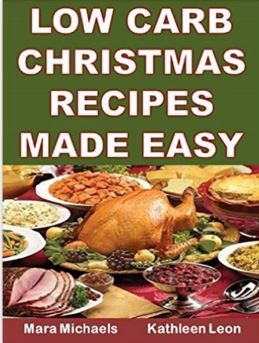 If you are dreading Christmas because you are afraid of packing on the pounds, you might be thinking of trying to go low carb in order to steer clear of the many sweet and starchy treats we associate with the holiday season, from cookies, cakes, candy and pies, to mashed potatoes, rice and pasta. "But wait," we hear you say, "what on earth can I eat at Christmas if I remove all those things from my diet?!"
The answer is quite a lot of delicious food, once you know how. A lot of people believe the myth that there are a lot of 'forbidden foods' on a low carb diet. In fact, most of these foods can be enjoyed in moderation depending on which of the low carb phases you are following. In this guide, you will find recipes for all phases of Atkins and other similar low carb diets.
Even better, you will discover a range of recipes you can make ahead and freeze so you will always have something on hand to eat, so you don't have to keep making separate meals for yourself and then for the rest of your family. In fact, we've designed all these recipes to be so tasty, your guests and even the children will never know they are low carb if you don't tell them!
Discover delicious recipes for every course on your holiday menu, including desserts. Learn how to make over traditional recipes the low carb way. Stretch your leftovers to even more low carb meals, so you always have something on hand to eat quickly, and stick to your low carb lifestyle at the same time.
If you love good food at Christmas, but are worried about your ever-widening waistline, the low carb lifestyle offers a quick and relatively easy way to lose 10 to 20 pounds in only a few weeks IF you get organized and follow the Induction phase guidelines. Imagine. You can even lose weight at Christmas once you know how.
Use one or two dishes to make sure that you have something low carb to eat if you go visit others or take part in a community gathering such as a work or church potluck. Or, plan an entire meal of low carb delights and impress your family and friends even as you help them all watch their weight this holiday season.
In addition to the 35 tasty recipes, in this guide you will also discover:
+14 pros and cons of a low carb diet
+16 top tips for successful low carb dieting
+13 common low carb lifestyle mistakes and how to avoid them
From a full roast dinner with all the trimmings to amazing appetizers, delicious drinks and decadent desserts, low carb has never tasted so great, been so easy, or seemed so fun and festive.
Audience
+Those new to low carb who are interested in low carb holiday foods
+Those on low carb who need holiday recipe ideas
+Those on low carb who have not seen the weight loss results they were hoping for and want to avoid weight gain at the holidays
++++
WORD COUNT=32,762
++++
Note: All of the guides at this site can also be read as part of the Kindle Unlimited program-millions of books to read for one low monthly fee.
BUY OR READ NOW
++
TABLE OF CONTENTS
What's in this Guide
About the Authors
Introduction
Chapter 1: What is a Low Carb Diet, and Why Go Low Carb?
Chapter 2: The Advantages and Disadvantages of a Low Carb Diet
Chapter 3: 16 Effective Steps to Getting Started with a Low Carb Lifestyle
Chapter 4: 13 Common Mistakes Many People Make When Following a Low Carb Lifestyle
Chapter 5: Low Carb Menu Planning for the Holidays
+Nutritional Note
+Allergy Note
Chapter 6: 35+ Low Carb Christmas Recipes
+Appetizers and Snacks
+Sauces
+Soups
+Salads
+Main Courses
+Side Dishes
+Beverages
+Desserts
+Leftover Magic
Conclusion
Resources
Free Menu Planning Ecourse
Free Newsletter
Recipes Index
+++
Note: All of the guides at this site can also be read as part of the Kindle Unlimited program-millions of books to read for one low monthly fee.
BUY OR READ NOW
++++
ABOUT THE AUTHORS
Mara Michaels is the author of over 40 recipe and holiday entertaining guides. Kathleen is a food and recipe blogger and who has followed a low carb diet for many years. This is her second low carb book.
Also by the Authors
Low Carb Thanksgiving Recipes Made Easy
Summary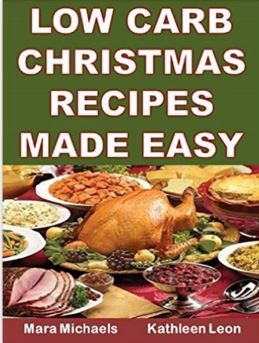 Author Rating





Product Name
Low Carb Christmas Recipes Made Easy
Price
Product Availability