New Year, Wealthy New You: 365+ Tips to Transform Your Finances
Discover some of the best ways to transform your finances this year, to make it your most prosperous yet!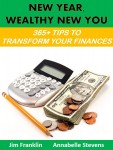 Make this your most prosperous year yet! It is never too late for you to learn more about managing your money. Many people wonder what the best way is to improve their personal finances. The truth is that it is never any one single thing, but a combination of action steps that can help you make the most of your income no matter:
+how much you earn;
+what your financial commitments are (mortgage, children and so on);
or what stage of life you are at (in high school or college, married with kids, etc.).
In this guide, get 365+ tried and tested tips you can use TODAY to start improving your financial. Try just a few tips from each chapter and see how much you can save. Try them all, and you should be well on your way to meeting your financial goals.
Don't have any financial goals yet? Learn how to set them so you can start living the life you've dreamed of and giving your family a better quality of life. There's no reason to miss out on any of the things you feel to be important, such as a college education for the children or a comfortable retirement if you take steps now to work towards these goals.
Discover invaluable tips on how to save money on:
+Everyday expenses
+Insurance
+Car expenses
+Taxes
and much more.
This guide is designed with the ordinary person in mind. You do not need to be a financial genius to increase your wealth. These tried and tested tips really do work if you follow through. No matter what the state is of your finances, there is always room for improvement. Get started today on the road to a better financial future for you and you family with the help of this guide.
BUY NOW
===
Word Count=29,222
===
TABLE OF CONTENTS
INTRODUCTION
CHAPTER 1: TOP TEN TIPS TO START WITH
CHAPTER 2: Tips 11 through 50
+General Finance Tips and Quotations
+Budgeting, Saving and Household Tips
CHAPTER 3: Tips 51 through 100
+Budgeting, Saving and Household Tips continued
CHAPTER 4: Tips 101 through 150
+Budgeting, Saving and Household Tips continued
+Car Buying and Leasing Tips
CHAPTER 5: Tips 151 through 200
+ Children and Money
+Credit and Debt Tips
CHAPTER 6: Tips 201 through 250
+ Living Better for Less Tips
+ Holidays, Occasions and Entertaining Inexpensively Tips
CHAPTER 7: Tips 251 through 300
+ Holidays, Occasions and Entertaining Inexpensively Tips
+Tax Tips
+ Investing Wisely Tips
CHAPTER 8: Tips 301 through 365+
+Mobile Apps to Help Get Your Finances in Order
+Mortgage and Real Estate Tips
+Travel Savings Tips
CONCLUSION
APPENDIX: SETTING YOUR FINANCIAL GOALS
BUY NOW
++
ABOUT THE AUTHORS
Jim Franklin and Annabelle Stevens are the authors of over 50 self-guides related to personal finance and adding to your life skills.

Jogena's eBook Directory – Your one-stop ebook spot!
Summary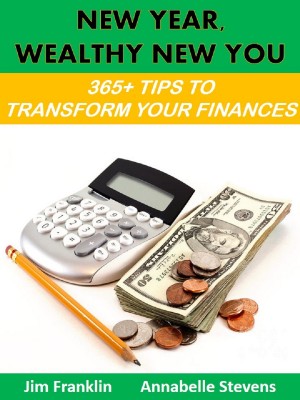 Author Rating





Product Name
New Year, Wealthy New You: 365+ Tips to Transform Your Finances
Price
Product Availability