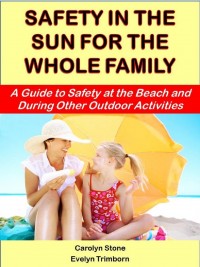 The summer is a wonderful time to enjoy the great outdoors, but if you want to stay safe as well as have fun at the same time, it pays to be prepared. From beach safety in all its aspects, to safety and skillful preparation during other outdoor activities, such as biking and camping, this special report covers the many safety issues vigilant parents will want to be aware of before they take their family to the beach or other outdoor recreation area.
Beach safety includes protection from the sun, preventing sunburn, and what to do if sunburn strikes. It also includes dangers to watch out for on the beach and in the water, whether swimming, boating, or using recreational equipment such as rafts.
In addition to sun safety, a trip to the beach can involve food safety issues and also protection of your personal property from being lost or stolen while you are at the beach.
This comprehensive guide is packed with information, advice, lists and tips to make the most of your summer by putting safety first when in the sun, at the beach, and even while cooking out. It will help you plan ahead and know all the essentials before you depart, to help take the hassle and worry out of your next outdoor adventure, and help you save money, too.
Word Count=14,600
TABLE OF CONTENTS
INTRODUCTION
CHAPTER 1: PREPARING FOR THE BEACH
CHAPTER 2: SAFETY AT THE BEACH: PERSONAL PROPERTY
CHAPTER 3: SAFETY ON THE BEACH
CHAPTER 4: WATER SAFETY AT THE BEACH
CHAPTER 5: GENERAL RULES TO FOLLOW AT THE BEACH
CONCLUSION
APPENDIX 1: CHOOSING SUNBLOCK OR SUNSCREEN?
APPENDIX 2: NATURAL REMEDIES FOR SUNBURN
APPENDIX 3: HOW TO TREAT A HEAT RASH
APPENDIX 4: HOW TO GROW AND USE ALOE VERA AT HOME
APPENDIX 5: HOW TO TALK TO YOUR TEENAGED GIRL ABOUT SUN BED DANGERS
APPENDIX 6: EVERYDAY HABITS THAT AGE YOUR SKIN
APPENDIX 7: KEEPING YOURSELF AND YOUR FAMILY SUMMER SAFE OUTDOORS
APPENDIX 8: SUMMERTIME FOOD SAFETY
APPENDIX 9: HOW TO KEEP YOUR CHILDREN SAFE WHEN BIKING
APPENDIX 10: HOW TO PACK FOR FAMILY CAMPING TRIPS
APPENDIX 11: HOW TO DEAL WITH THE ITCH OF POISON IVY
FURTHER RESOURCES
=====
The authors have produced more than 100 health and self-help guides.
Buy Now or Read More with Kindle Unlimited
Summary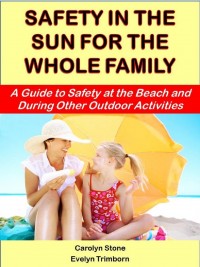 Author Rating





Product Name
Safety in the Sun for the Whole Family
Price
Product Availability