How to Transform Stress Into Success
Discover how to transform stress into success, to live your best life yet.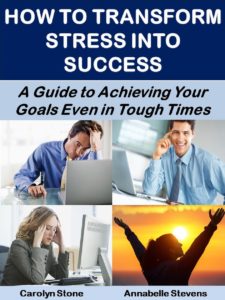 **LIVE THE LIFE OF YOUR DREAMS BY TRANSFORMING CRIPPLING STRESS INTO THE POWER FOR SUCCESS**
Stress is an inescapable part of daily life in the modern world. Even people who seem calm, cool and collected suffer from stress. Stress can paralyze you and make you unfit to function, or stress can spur you to success. It is all a question of how you respond in stressful situations.
If you're concerned that stress is getting the better of you, the good news is that you can learn how to handle your stress in positive and productive ways. Discover a range of strategies that can help you cope with stress and even transform it, redirecting your energy to achieve what you desire most.
In this guide, discover the best ways to reduce stress in your life and prevent stress from arising in the first place. Learn how to overcome the negative effects of stress on your body, mind and spirit, particularly now that the economy in many parts of the world is not doing well and so much bad news can trigger even more stress.
Learn how to transform the negative energy of stress into a positive one, in order to improve your chances achieving your personal goals. Learn how these stress-busting strategies can help you stop getting in your way and unleash the freedom to start building the life of your dreams even in this difficult financial climate.
No matter what you wish to improve – your career, business prospects, or relationships – learn how to transform stress into success with these effective methods for minimizing stress and maximizing your effectiveness in the face of any challenging situation.
Inside this invaluable guide, you will find:
* A guide to stress identification and prevention
* Strategies you can use every day to lower your stress levels and transform a problem from an obstacle into a challenge that can actually help you increase your success in life, not hold you back
* Guidelines on how to deal with specific stressors such as financial stress, and stress at work, home, within the family, health-related stress, and more
* A handy worksheet to help you identify and conquer your own personal stressors
* A daily checklist to help you implement your new stress-reducing techniques
* Methods for reducing financial stress in your life
* How to reduce stress in the workplace
* Methods for transforming your stress into success in business or in your personal life
* Quotations you can use as affirmations every day or when you need to reduce your stress
and much more.
This guide is designed to help anyone struggling with stress to not only reduce and even remove some of these stressors, but also transform your stress into success.
Discover a healthier, happier new you, able to respond effectively to every challenge. Learn how to greet each new day as an exciting one full of opportunities. Transform everyday stress and its negative energy into a powerful force for positive change in your life with the help of this guide.
++
Word Count=17,245
Buy Now or read more with Kindle Unlimited: How to Transform Stress Into Success: A Guide to Achieving Your Goals Even In Tough Times
=====
TABLE OF CONTENTS
INTRODUCTION
CHAPTER 1: The Solution to Stress Lies Within
CHAPTER 2: Why You MUST Reduce Your Stress Levels
CHAPTER 3: Daily Stress-Relieving Techniques
CHAPTER 4: Strategies to Conquer Your Specific Stressors
– Financial Stress
– Dealing with Conflict
– Stress at Work
– Stress Over Health Concerns
– Uncertainty/Anxiety
– Family Stress
CHAPTER 5: Putting It All Together: From Stress to Success
CONCLUSION
50 QUOTES ABOUT SUCCESS TO INSPIRE YOU
WORKSHEETS TO DOWNLOAD
Buy Now or read more with Kindle Unlimited: How to Transform Stress Into Success: A Guide to Achieving Your Goals Even In Tough Times
+++
ABOUT THE AUTHORS
Annabelle Stevens and Carolyn Stone are the authors of over 70 health and self-help guides.
Summary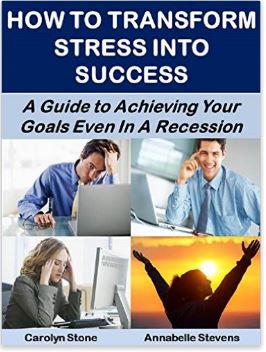 Author Rating





Brand Name
Product Name
How to Transform Stress Into Success: A Guide to Achieving Your Goals Even In A Recession
Price
Product Availability