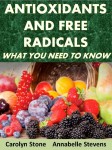 We have all heard the word antioxidant, and most of us now know that antioxidants are supposed to be good for our health, but why? And where can we find them?
Today's spotlight title
Antioxidants and Free Radicals: What You Need To Know
http://tinyurl.com/AntioxidantsFreeRadicals
It can be tough keeping up with important information on what to do and not do for your health and that of your family, which is why we publish handy health titles that explain what you need to know simply and clearly.
Knowledge is power when it comes to your health, so use today's spotlight title to learn more about antioxidants and their anti-aging and disease fighting properties, and see if they can make a difference to your overall health. And feel free to share this information with anyone else who might find it of use.
Summary
Article Name
What exactly IS an antioxidant?
Description
Learn more about antioxidants and what they can do for your health.
Author