70 Top Exercise and Fitness Tips for Busy People
Get 70 exercise and fitness tips to help you stay fit no matter how busy you are.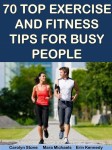 Get Moving, Stay Fit, And Stay Motivated, No Matter How Busy You Are
If you can't ever seem to find the time to exercise, this guide is designed with you in mind, to help you become more active and make the most of the workout time that you do have. These tried and tested tips can help you improve your level of fitness in as little as 10 minutes a day.
Learn about:
+ The importance of cardio for your health
+ How to calculate your maximum heart rate to get the most out of your workout
+ The best equipment to use if you are on a budget.
You will also discover:
+ The best ways to stay fit no matter what your age
+ How to avoid injury if you are a 'weekend warrior' or just returning to exercise after a long break
+ What clothes to wear for different activities
+ How to do the best sit-ups for that six-pack you long for
…and much more.
If you are eager to start getting more fit but don't have the time or money for a fancy gym, these tips will get you started on the path to a fit and trim new you.
WORD COUNT=10,500
===
TABLE OF CONTENTS
INTRODUCTION
70 TOP EXERCISE AND FITNESS TIPS
CONCLUSION
RESOURCES
CHECKLIST OF TIPS
FREE NEWSLETTER AND GUIDES
===
ABOUT THE AUTHORS
The authors are all writers and editors for the popular health website Healthful-Goddess.com. Carolyn Stone is also the author of over three dozen health and self-help guides.
Buy Now: 70 Top Exercise and Fitness Tips for Busy People (Health Matters)
Summary
Author Rating





Product Name
70 Top Exercise and Fitness Tips for Busy People
Price
Product Availability