How to Transform Your Money Mindset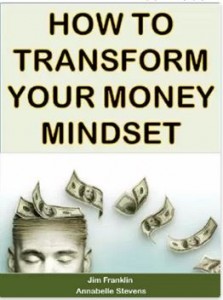 **Get ready to make 2016 your most successful year yet!**
What determines who will be rich and who will be poor? Could it be your own mind that is holding you back from the kind of wealth and life that you deserve?
In this guide, the authors offer a step-by-step guide on how to transform your "money mindset" to start creating the life you desire. Each chapter discusses the contrasting actions of a person with a rich mindset, compare with a poor one. You may be working under a great number of false assumptions about 'reality' and actually sabotaging your own success.
Learn to spot the traps that keep you stuck in a poor mindset, and how to overcome them. Discover how rich and successful people really think about money, how to develop a wealth-creation mindset, and how to aspire to higher goals and actually achieve them through your money mindset.
You will learn:
+ The best ways to manage your money every month, no matter how much you earn
+ Investment opportunities you should be making the most of
+ How you can identify your underlying attitudes to money
+ How your underlying attitudes might be holding you back no matter how hard you are trying to succeed
+ How to start creating additional streams of income for your household in just a few simple steps.
You will also discover:
+ How to deal with any debt you might be carrying
+ The best ways to learn about investment opportunities and asset management
+ How the "Buy Now, Pay Later" mentality can cripple your progress towards your wealth creation goals
+ How not knowing the difference between price and value can keep you poor
+ 13 ways to transform your money mindset
…and much more.
If you are tired of hearing about the recession and constantly feeling poor, then it is time to start thinking rich instead. Begin transforming your money mindset today by completing the action steps in this guide, your first steps on the path to your financial goals for you and your family, for the kind of future you deserve.
WORD COUNT=27,900
Buy Now: How to Transform Your Money Mindset (Money Matters)
=====
TABLE OF CONTENTS
WHAT'S IN THIS GUIDE
ABOUT THE AUTHORS
INTRODUCTION
CHAPTER 1: THE RICH THINK ABOUT MONEY DIFFERENTLY
CHAPTER 2: CULTIVATING THE ABUNDANT MINDSET
CHAPTER 3: WHEN OPPORTUNITY KNOCKS: WILL YOU OPEN THE DOOR?
CHAPTER 4: MAKING MORE MONEY IS ALL IN THE MIND
CHAPTER 5: THE INVESTMENT AND WEALTH CREATION MINDSET
CHAPTER 6: KNOW YOUR POWER
CHAPTER 7: THE IMPORTANCE OF ASPIRING TO MORE
CHAPTER 8: THE MANAGING YOUR MONEY MINDSET
CHAPTER 9: TIPS TO TRANSFORM YOUR MONEY MINDSET
CONCLUSION
APPENDIX: SAMPLE BUDGET WORKSHEET
ACTION STEPS CHECKLIST
AFFIRMATIONS
FURTHER READING
FREE NEWSLETTER AND GUIDES OFFER
=====
ABOUT THE AUTHORS
Jim Franklin is a journalist and writer on a variety of financial topics designed to help you make the most of your money. He is a regular contributor to several top blogs and websites and the author of over a dozen books on personal finance and other topics that can help oyu save money. Annabelle Stevens is the author of over forty self-help guides on small business, health, and the power of positive thinking.
Buy Now: How to Transform Your Money Mindset (Money Matters)
Summary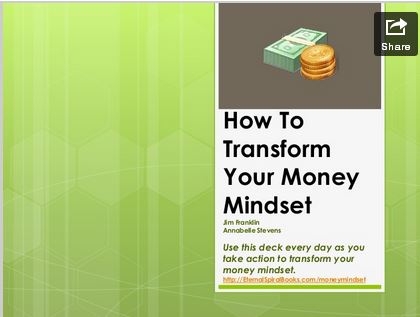 Author Rating





Product Name
How to Transform Your Money Mindset
Price
Product Availability